---
the service 1981-'82 Ann Arbor, Michigan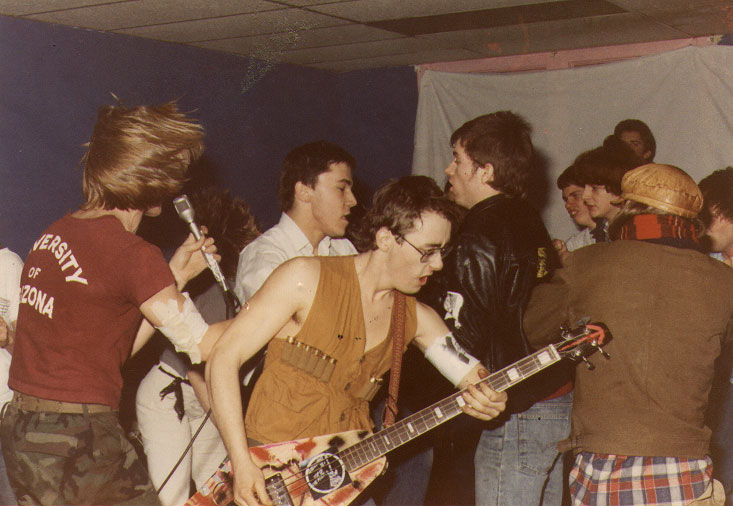 "The first band I played in was "The Service". The first lineup was me (Wes) on guitar, JB on bass, Scotty on drums and Tommy on vocals. Well...after a bit I moved to bass and we picked up a different guitar player, Steve Watson. We played a BUNCH of shows and parties including a gig at the now gone Second Chance. We also played at the Halfway Inn and the Statehouse on Huron. It was all fun for us. We didn't care about being paid.
Some of our first gigs were at a place called The Liberty Loft. This place was a small theater were this one cat named John lived in. He would show slides of Colorado to people and charge money (Yea...I never figured that one out either). Bjorn and I approached him about throwing a party and letting a few bands play. John was into it...so a flyer was created, word spread and on the night of the bash, the place was PACKED.
The Service, Aborted Popes and The Special Guests played that first show. Over several months we had a few gigs in that space. Then John moved out. All the different bands took turns being the headliner. There were no rock stars here. Little did we know at the time, history was being made.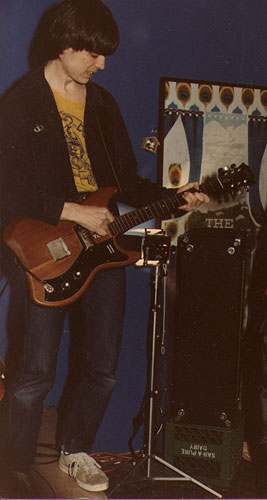 The Service did do a bit of recording at Crescent Music on Main St. here in Ann Arbor. I had an old Akai 4 track reel tape recorder. Steve Osbourn at Crescent had a cool room for us to set up in. We did not have a fourth member then.. so I played bass and guitar on all the tracks. Some of those songs ended up on the "Just For Fun" collection that came out on cassette tape back in 1983.
The Service didn't last long. We were always surrounded in conflict. Two of the members were having affairs with the same girl. Tensions living together were always high. WAY too much alcohol was consumed. A bunch of stuff was stolen. I "lost" many records. And then one day we found out that Tom, a housemate NOT from our crowd, skips town with the rent. Bastard. Landlord wasn't amused...plus he didn't like us anyway...and gave us notice to vacate. We did. we didn't have any cash... we just looked at each other and said "laters!". Needless to say.. that was the end of The Service. Like rats, we just scattered in different directions.

Scotty got sick of all the headtrips in his relationship and moved to Atlanta, Ga. I never heard from him again. Steve, the guitar player, I have no clue where he went. I seem to remember him maybe moving to L.A. Tommy took off too. Said he was just SICK of Ann Arbor and needed a change. I saw Tommy about 7 years ago. He came back to town for some family business and I got to hang out with him for a couple of hours. He was living in the Virgin Islands and working as a Chef. At least that was what he was saying. You kinda never really knew what the real story was with him. And me? I'm around Ann Arbor, work at U of M. I was in exile for many years but slowly coming around."---Wes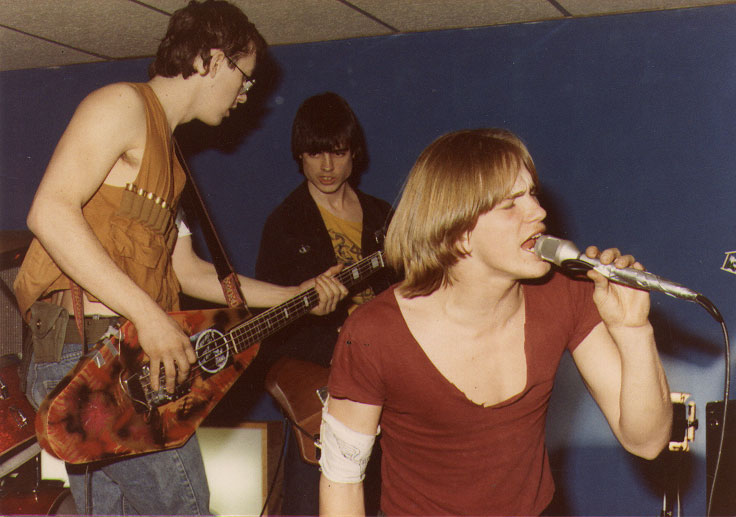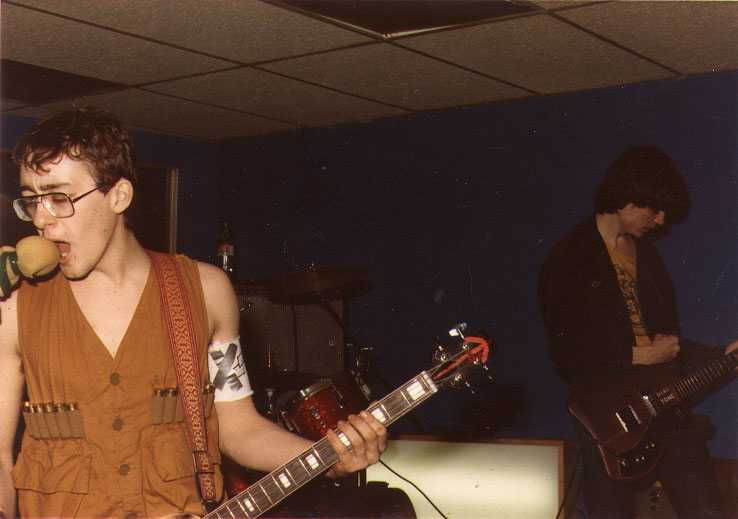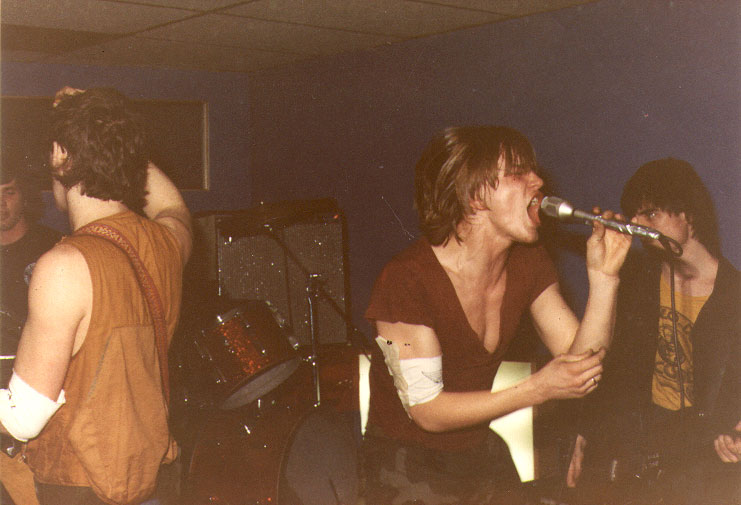 A few words from JB
"It was so fucking funny when the Service formed. Wes came into the dumpy restaurant I was working in and said he was interested in me being in a band and that they already had a gig all lined up. I'm thinking okay, that sounds cool. I said, "Wes, I didn't know you could play guitar". He just laughed. Then he told me the gig was on the very next day! He said we can practice once tonight and once again tomorrow before the show. Yeah. At first I thought I might embarass myself and people would lose respect for me as a musician. Wes laughed at me and I just couldn't resist the chance to embarass myself and have people lose respect for me as a musician. It was a fucking blast." -JB

Download MP3s NOW! - "Fuck the System" "I Hate School" "We Fight Back" "The Service"

MP3s! recorded LIVE at the SECOND CHANCE on March 22, 1982
"anarchy"
"annette's got the hits"
"fuck the system"
"question authority"
"we fight back"
"speed"
"we're in the service"
"armchair commando"
"i hate school"
"cover band"




---