PLAYLAND - FLINT, Michigan
---
Hello boyz,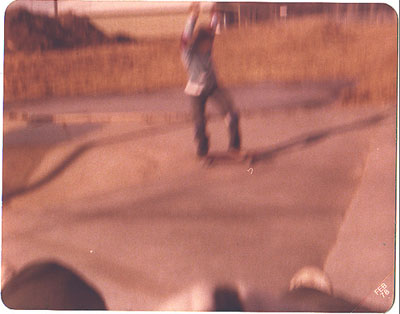 T'was Howard Field that painted the bowels of thee playland park...PPP Playland's Pavement Paradise. If you recall he also had a little tow-head cruising with him who was just 6 then so he must be about 32 or so by now, that was Jake. We also rode Howards backyard halfpipe. It was built solid and smooth but I swear it was like 15' transitions so it was practically impossible to pump. Howard also hand-painted me a Jim Muir Dogtown Tee back in the day when DTS had release boards but not any tee shirts - I still have it, but the sleeves are long gone.

Anyhoo, Howard used to always come in and smoke weed with me behind the big bowl - I was 16 or so and my older brother Kris that was running the whole business at the time used to get so frickin' angry!! ~ah, good times! My brother ended up taking over the business from my parents and runs the one left on Dort Hwy in Grand Blanc.

Fred George was the dard haired guy that worked at the park with me, he was definately a ripper! If, you remember this all predates "how high can you ollie", this was the "how many 360's can you do?" phase and Fred could rattle them off in the teens pretty consistently. I think 17 was his best. His dad was Victor George (oldsmobile) and I think him and his brother took over the dealership on Saginaw Street. We lost contact, but I've heard that he still has most of his old equipment including a DTS Shogo Kubo Triplane or whatever that was w/ teh graphic on the top and the beams on the bottom -- Clear griptape days no doubt. The most amazing story was that he and I took off to Cali in a van.

When the park closed I took the 1/2 pipe that Kurt Walrath had made and but it in my folks back yard, 8' wide, 4' flatbottom and no decks. It was such an un-welcomed eye sore in that suburban setting. To top it off I was getting into punk rock and painted it leopard skin -- nice!

When I graduated HS, I moved into the Playland house there on Dort, was managing the south end business and I took my ramp with me. That was a pretty killer time. I was 18, living in my own house, ran the ol' mans busness and 1/2 pipe there for daily sessons. After a short period w/ the ramp in the field next door we were asked to move it and Kurt took on the job of moving it, making it 10' wided and pushing it to 8' of flat, we also had taken advantage of the closing of the Fenton Skatepark (High Roller East) and stole what we could of their pool coping and used it on one side of the new ramp. The North side was a big 2.5" wooded hand rail coping. It was also butt-up against the barn of the Go-Kart track at this point.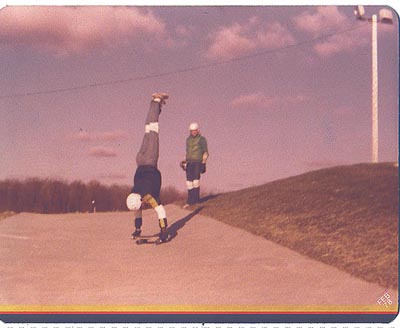 Durng that time we had a shit load of fun. It was the 80's (1-2-3-?), we had a couple of big contest and all the cats from all over the glove state came in. I had been treking down to Endless Summer in those times alot so had gotten pretty tight w/ that crew, Danforth, Fergusson, Chris Moore, Shawn Snow, Ward Crammer, Budd Buracar, Etc. I think I met Mank at that one contest we had too, he came up w/ some other guys from Ohio that ripped.

The playland park was pretty poorly executed. The dragon bowl in front was designed to be a pool w/coping. We had partnered with Modern Cement company across the street to make the park and they took all kinds of short cuts and general F-ups. At the same time when Playland was started there was only 1 park that had an actual skate pool in it's layout and I think that was spring valley so not a hugh road map to work from. It was surf style at best and the Michigan winters destroyed the poor quality pretty quickly. We often had continual leakage up from the cracks that was slippery as hell and dangerous. I swear we broke a million bones over those few summers - that talley include my own as I fell from the top of the big bowl down to the bottom, landing on my board again and slamming into concrete. I broke my shoulder 2 days before school was out for summer when I was sixteen. I'll never forget I had just put on new white yo-yos and they were fast as hell, I started to roll out and tried to go for it but without a very defined edge up there I sort of wavered.

I have two Playland bumper stickers, Hank (my father) wouldn't spring for the cool die-cut style stickers of the times and zero tee's from the park, which I'd sorely like to get my hands on. The back stole a frontside air silhouette of TA between two palm trees the front only had PPP at the left chest...I think we only made them in yello.


cheers, ---skot werner
---